About Clarion Creations


The Clarion Highland Dance Studio was founded in 2005 in South Delta. In 2016 we moved to North Vancouver to open a studio on the North Shore. Students at the studio learn traditional and choreographed dances using Highland dance technique as well as choreographic movements from a range of dance styles. Clarion means "Loud and clear" and lends itself nicely to the creative and expressive energy that is found in the Clarion Highland Dance Studio. Teachers at Clarion Creations currently offer Highland dance classes to students ages 5 to adult.

At the Clarion Highland Dance Studio we offer quality Highland dance instruction to students of all ages and levels. Our goals are to meet the needs of each student and instil a love for music and dance through our teaching. We believe in offering students the opportunity to learn to dance in a creative and positive environment, and we are committed to giving our students the motivation, technique, discipline and performing experiences they need to become great artists. In classes students are encouraged to be creative and resourceful to achieve the goals they set for themselves. Through dance lessons, we hope not only to teach dance, but also musical knowledge and life skills including positive body image, performance experiences, and great practice skills
---
Welcome to the Clarion Highland Dance Studio
Let the Creativity Flow
About the instructors

Genevieve Dunkley, B.Mus, B.Ed, B.A.T.D.

d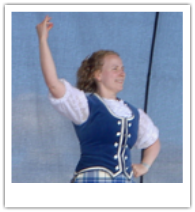 Genevieve Dunkley has been Highland dancing since the age of five. Genevieve started taking lessons with Marilyn Merry in Tsawwassen, BC. From early on, it was apparent that Genevieve had a passion for dance and Scottish music. Genevieve loves performing and also competed from a young age well into her twenties. Some places Gen has performed include Whidbey Island Naval Base, San Diego Air Museum, and Rideau Hall all through military employment. In 2005 Genevieve started her studio in Tsawwassen after Mrs. Merry retired. Genevieve continues to perform and choreograph Highland dances for Scottish events in the community.

Genevieve graduated from UBC in 2003 with a music degree in trumpet performance, and 2007 with an education degree focusing on fine arts and media. Gen also enjoys teaching music and band in North Vancouver and playing trumpet in the local military band, and Eb cornet in the Little Mountain Brass Band.

Genevieve brings her love of music and creativity into all areas of the dance studio and is excited to continuing teaching at her dance studio in North Vancouver this fall.


---
Erin Bowling, B.A.T.D.

d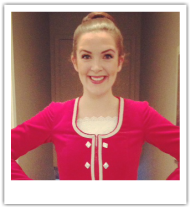 Erin Bowling started dancing with Marilyn Merry at the age of 8. She quickly progressed in competitive dancing, and had great success as a competitive dancer. After a break, Erin came back to Highland at age 16, and decided to pursue her love of Highland through teaching and performing. Erin obtained her Highland membership in the B.A.T.D. in 2011 and continues to teach from time to time at the studio with Genevieve.

As well as teaching at the dance studio, Erin is also the studio administrator. Erin manages many areas of the dance studio including registration, concert booking and finances. Erin is currently pursuing a degree at UBC. In addition to working at the studio and taking courses, Erin is working downtown full time. Erin is one busy girl!

---